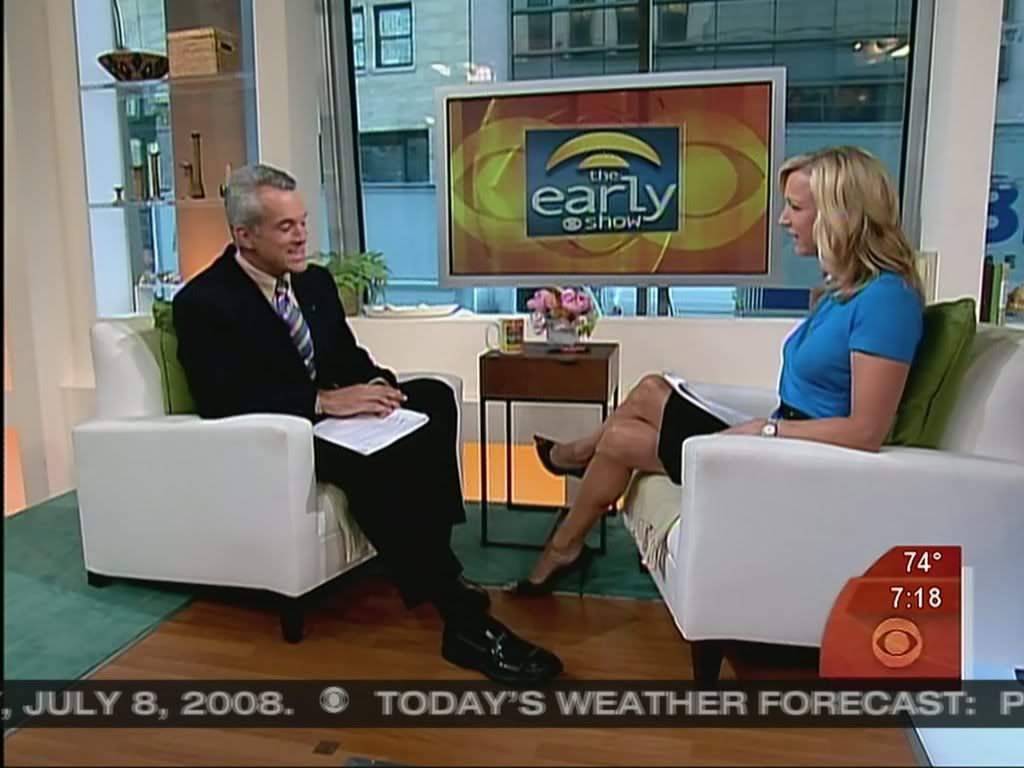 So Lara Spencer subbed on the Early Show this morning? Interesting. I would not have pegged her as someone on the list as I was suspecting (and hoping) that Tracy Smith would be on again. Now Lara has some pretty good chops for morning shows from her experience on Good Morning America. I had her down as a possible candidate to replace Diane Sawyer whenever ABC decided to haul her bag of bones off to retirement but too bad. Now it looks like CBS is strengthening their ties to their entertainment/celebrity shows like ET and the Insider just like NBC is with Extra and Access Hollywood. Lara however is way better than Maria
Menounos
on her various mostly disastrous appearances on the Today show. I think that experiment of bringing in a wild card was an OK idea in the beginning when the 4
th
hour was introduced but now that they have the still inexplicable pairing of
Hoda
Kotb
and Kathie Lee on the 4
th
hour it has kind of made that experiment a little hard to pull off.
Giada
showed up last week and this week we have Maria Celeste but I really don't think Maria is cut out for the English language. I know she is the big cheese on
Telemundo
but her English is heavily accented for me.
So what does this portend with Lara? It is also interesting that Tracy has returned in a limited fashion after she got pulled off of Saturdays I was beginning to wonder if she had fallen out of favor at CBS. But since they have new management at the Early Show (again) perhaps she is now being looked at for some role. I would have no problems with Tracy taking over for Mrs.
Moonves
who can be quite nicely shipped off to LA to spend her time with the hubby and Big Brother. I suppose we can look at this simply as a lineup shuffle to deal with the inevitable summer holidays that the main anchors take each year. Summer is always a bit of a gamble because you know the warm weather brings out the legs but also the top people go on vacation more so you may get screwed depending on whom they bring in for substitutes. On
GMA
for example it can be pretty bad unless Kate Snow is in and in a good mood. But you can always get a good surprise, like with Lara this morning. And maybe that is all that it is.